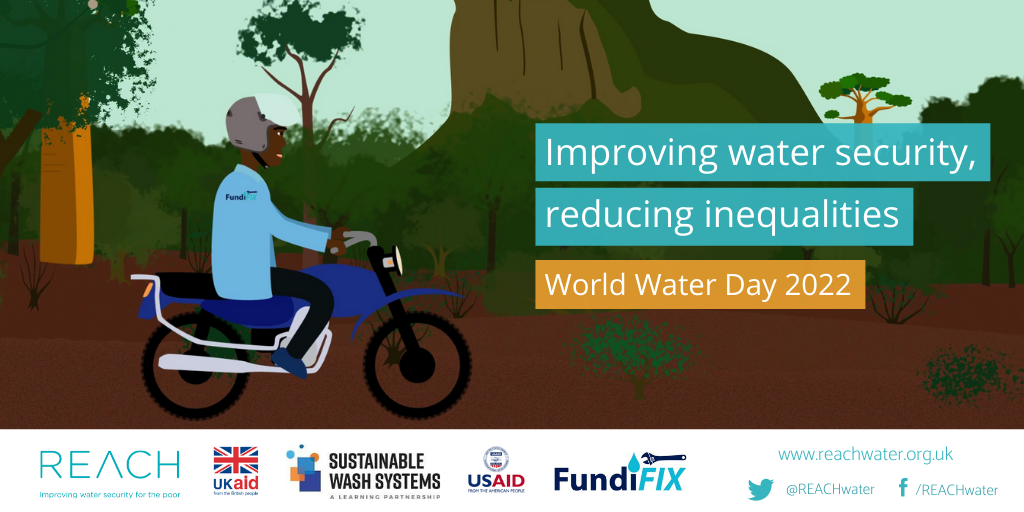 22 March 2022
Improving water security, reducing inequalities
As we mark World Water Day 2022, REACH is posting a series of new resources featuring work to improve water security in schools, health care facilities and households.
Today, we are sharing an animated video co-developed by REACH and USAID's Sustainable WASH Systems' Learning Partnership illustrating how rainfall risks affect girls' and boys' education in Kenya and how professionalized maintenance of water services can respond to these challenges. The summary and link to the video is here.
On Tuesday 29th March, we will post a policy brief on the wider social and economic benefits of investment in professionalized maintenance: An analysis of 10 years of data from Kenya, led by Tim Foster at the University of Technology Sydney, suggests that professionalized maintenance can help address inequalities surrounding water access and help buffer climate risks.  
On Tuesday 5th April, we will release a policy brief by Kenyan researcher Jacob Katuva on improving water and hand-washing services in rural healthcare facilities in Kenya, including a scalable cost estimate to inform policy development in Kitui County, Kenya.
On Tuesday 12th April, we will announce details of a new programme of research to be delivered in collaboration with HWISE and the Stockholm Environment Institute, designed to understand water security experiences within households across REACH countries Kenya, Bangladesh and Ethiopia.
Collectively, this work promotes how REACH's science-practitioner partnership supports policy and practice in improving water security for 10 million poor in Africa and Asia.