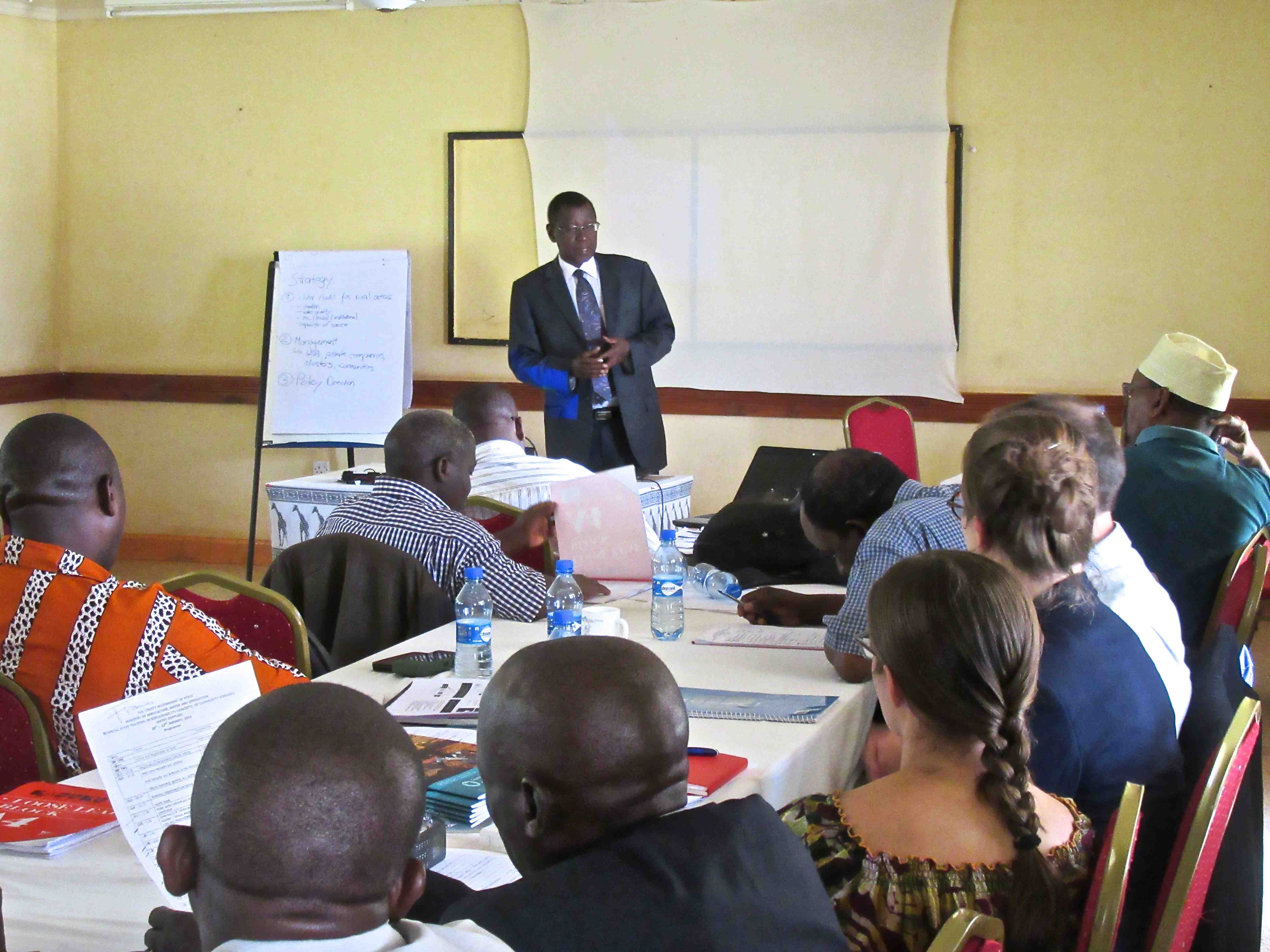 4 February 2016
A vision for drinking water security in Kitui County, Kenya
Johanna Koehler and Susie Goodall, Smith School of Enterprise and the Environment, University of Oxford
On 21 and 22 January 2016, the Kitui County Government and UNICEF Kenya ran a workshop for the County water staff to develop a sustainable approach for Kitui's water services. Oxford University researchers were invited to participate and share learning from their ongoing work in the area as well as to discuss future collaboration. The Oxford-led REACH programme plans to establish a Water Security Observatory for Kitui County in collaboration with the County Government and UNICEF.
With a combined total of 639 years of expertise from around 40 technical County water staff in one room, the group were well placed to drive the County's water agenda for the years to come.
Participants collaboratively defined their vision for rural water services in Kitui as follows: By 2021, water supply infrastructure in Kitui County will be managed sustainably so that all residents have access to safe, affordable and reliable (maximum downtime of seven days) water in adequate quantities within two kilometres.
The County Minister for Agriculture, Water and Irrigation, Hon. Charles Kang'e, said that a change in thinking is needed for reaching their vision. His Chief Officer, Mr Jacob Mutua, highlighted the County Government's mandate to achieve Kenya's 2030 vision, in line with the new Sustainable Development Goal (SDG) agenda. He echoed the County Minister's call for a shift in attitudes towards serving their clients – the residents of Kitui County.
Mr Mutua identified the key challenge in water service provision as 'governance at all levels'. 'Providing water starts with you and me' he said to the County technical team. The importance of economies of scale and independent regulation was also stressed.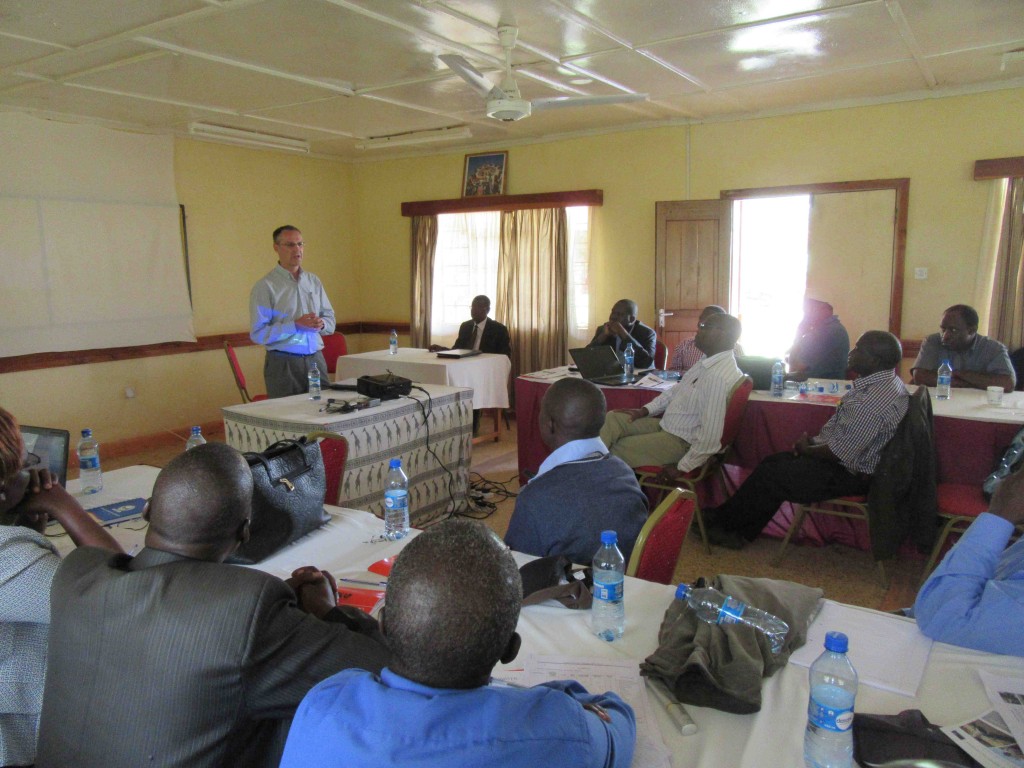 UNICEF Chief of WASH for Kenya, Dr Andrew Trevett, reiterated the importance of the County Government's role in coordination and oversight of service providers, as well as in developing new strategies and policies to facilitate an enabling environment for water service provision beyond community management.
Technical staff were interested in learning about wider sustainability approaches to improve water services, understanding why community-managed water projects fail and developing a strategy for the County to improve service delivery.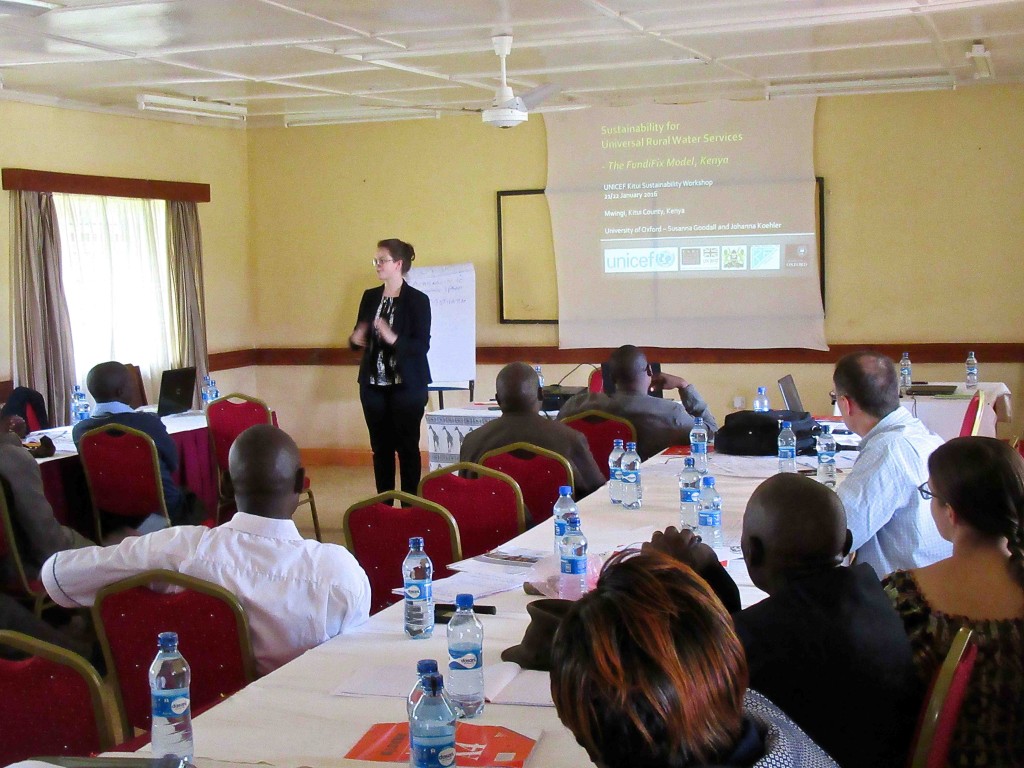 The Oxford University team was invited to present findings from their work in Kitui County which started back in 2012. They discussed their business model for rural water services, FundiFix Ltd., which has improved services by an order of magnitude for the people in its provision area. Two FundiFix customers were present and testified to the impact a reliable water supply has made on their lives. Both Sub-County staff and County Government are interested in the possibility of scaling up this model as part of their strategy for providing water for Kitui's citizens in line with the Kenyan constitution.